Hello! It is hard to believe that it has been almost a year since I last posted to my blog. My writing muse took a long rest, it seems!
I have been busy over the last year as I continued to visit parks and wild areas in Florida, camera always at hand. My photo collection has grown!  Like many photographers, my goal is to learn more about how to capture better what I see and love around me.
My digital camera has become more of a friend than a high tech device, but it still has many features to learn about.   Patience, I tell myself.  Before most outings, I get out the manual and try to practice one new "trick" to use that day.
Also, I continue to explore options for editing my photos and have been experimenting with high dynamic range photography (HDR) such as seen in the rose photo in this post.  Nik HDR Efex software definitely wins my vote for helping to create realistic HDR photos, or to go artistically wild. I have not crossed over to the wild side yet!
Finally, I decided to put some of my photos in the marketplace. I have opened a  store on Zazzle.com.  Here I can easily create (and sell) products such as posters, cards, calendars, mousepads, and many more, featuring my original Florida photos.
I invite you to explore my store at Nature Pix by anglerwoman, and to look at some samples on the Photo Products and Other Favorites page here on this blog.  Inventory in the store is growing and changes on almost a daily basis.
Perhaps my favorite product is the 2011 calendar – Birds of Florida, shown below. I spent many enjoyable hours creating this as I relived my experiences capturing each photo for the twelve month calendar. All of the photos can also be ordered as posters.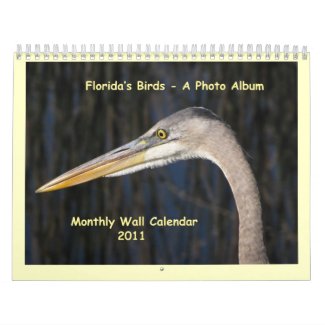 Florida's Birds – A Photo Album
by
anglerwoman
Many other
calendars
available on zazzle
I look forward to your comments, and suggestions, either here on the blog, or in my store.  And, although I cannot promise to write every day,  I do promise not to wait almost another year!  Lyn